Monday, January 18th, 2021
We are open today from 10:00am to 6:00pm
Soups:
Garden Vegetable
Italian Wedding
Broccoli Cheddar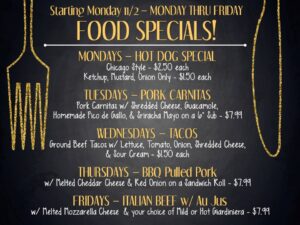 Sandwich Specials:
All Sandwiches have 1/4 lb. of meat!
1. Hot Dog – $2.50
w/ Mustard, Onion, Tomato, Sport Peppers, Relish, Pickles and Celery Salt
Ketchup, Mustard and Onion – $1.50
2. Peppermill Turkey – $6.99
w/ Colby Jack, Lettuce, Tomato, Onion and Sriracha Mayo on a 6″ Sub. Served Hot!
3. Cajun Chicken Salad- $ 6.99
w/ Lettuce and Tomato. On Whole Grain. Served Cold!
Wrap of the Day:
4. Rotisserie Chicken and Pepperoni – $7.99
w/ Italian Herb Mozzarella, Spinach, Tomato, Onion and Garlic Mayo. On a White Wrap. Served Hot!
Panini of the Day:
5. Italian Style Roast Beef- $7.99
w/ Provolone, Tomato, Mild Giardiniera and Garlic Mayo. Served Hot!