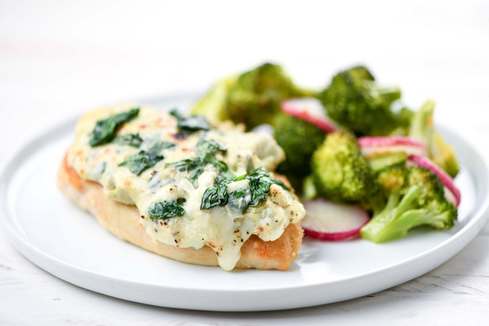 Spinach Artichoke Chicken w/ Roasted Broccoli & Radishes
Directions:
Before you Cook
Preheat oven to 400 degrees.
Set cream cheese on counter to soften
Rinse produce and pat dry
Prepare baking sheet with foil and cooking spray
Prepare the Ingredients
Cut Broccoli Florets into large bite-sized pieces (if necessary).
Trim & Slice radishes into 1/4″ rounds
Mince Garlic
Drain and rinse artichokes. Squeeze out liquid and coarsely chop.
Pat chicken breasts dry and season both sides with 1/4 tsp salt and 1/4 tsp pepper.
Roast the Vegetables
Toss broccoli florets, radishes, and garlic with 2 Tbsp olive oil, 1/4 tsp salt, and 1/4 tsp pepper on baking sheet w/ foil and cooking spray.
Spread into a single layer and roast in hot oven until broccoli is tender and lightly browned (17-20 minutes).
While vegetables roast, make spinach-artichoke mixture.
Spinach Artichoke Mixture
Place a medium oven-safe pan over medium heat. Add 1 tsp olive oil and spinach in hot pan.
Stir occasionally until wilted, 1-2 minutes.
Remove from burner. Transfer spinach to a mixing bowl. Add artichokes, mozzarella, cream cheese, 1/4 tsp salt, 1/4 tsp pepper and stir until mixed. Set aside.
Wipe pan clean and reserve.
Sear the Chicken
Return pan used to wilt spinach to a medium-high heat. Add 1 tsp olive oil and chicken breasts in a hot pan.
Cook until browned, 3-4 minutes.
Flip and cook, 2 minutes.
Remove pan from burner, Chicken will finish cooking in a later step.
Carefully spook spinach artichoke mixture evenly onto top of chicken breasts.
Roast Chicken & Finish Dish
Place pan in oven and roast until spinach-artichoke mixture is lightly browned and chicken reaches a minimum internal temperature of 165 degrees. (8-12 minutes depending on thickness of chicken).