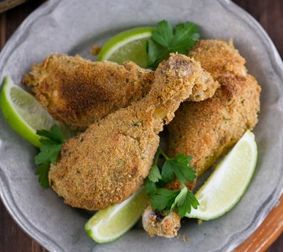 Baked Breaded Chicken Drumsticks
Directions:
Preheat oven to 400 degrees.
Line your cookie sheet with foil (to save on clean up)
Season drumsticks with salt & pepper
In a separate bowl, whisk together dijon mustard, mayo, and garlic cloves
In another bowl (wide enough to accommodate the base of the drumstick), put in the bread crumbs. (now you have your assembly line)
Roll or brush mustard mixture all over chicken drumstick and then transfer into the bread crumbs. Roll around until well coated.
Put on a baking sheet and bake at 400 degrees for 45 to 55 minutes or until internal temperature reaches 170 degrees.